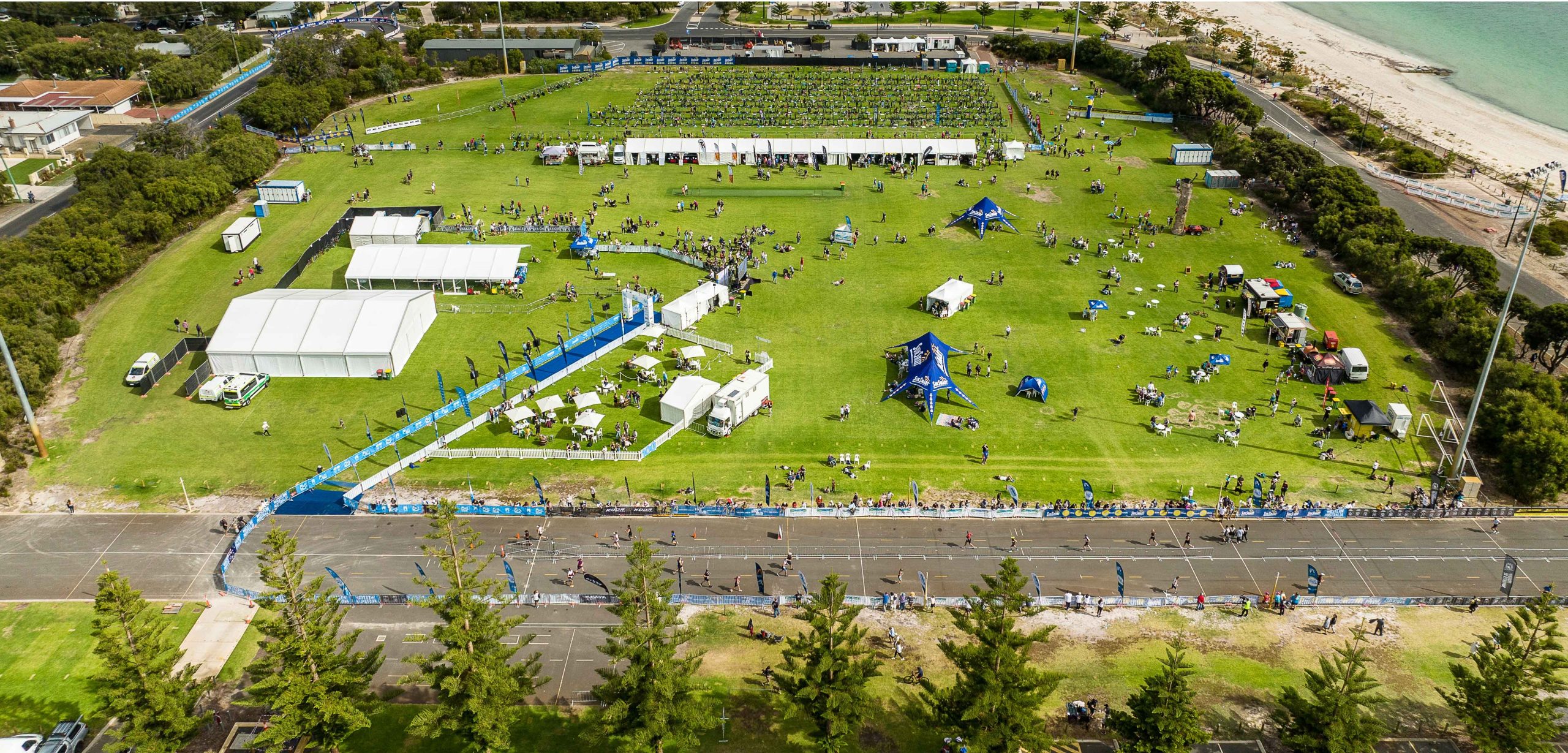 And that's a wrap! Busselton Festival of Triathlon 2022
May 05, 2022
SunSmart Busselton Festival of Triathlon Event Wrap 2022
The SunSmart Busselton Festival of Triathlon presented by Triathlon Western Australia took place over the weekend of 29 April – 1 May 2022. More than 1700 competitors flocked to the beautiful Busselton Foreshore to participate in the Festival's events with pleasant racing conditions. The 21st edition of the Festival looked slightly different this year with the inaugural SunSmart Busselton 100, two new Foreshore events and a Fun Run added to the agenda. Athletes and spectators alike enjoyed festivities in the Event Village including entertainment, food trucks and the Health and Lifestyle Expo.
On Friday 29 April, the Keep on Running Fun Run saw participants of all ages race at twilight through the 500m, 1.6km and 5km courses. There was prize money up for grabs in the Open field of the 5km distance resulting in an intense competition and sprint finish. The male winner, Sam Mileham beat runner-up Kurt Wesley by less than one second. The first Open female to cross the 5km finish line in a blistering time of 18 minutes and 33 seconds was 22-year-old Lauren Hyde-Cooling.
As the sun rose over the stunning south-west town on Saturday 30 April, over 1200 Individual, Team and Aquabike competitors were getting ready to race in the first ever SunSmart Busselton 100. At 7:30am, the first triathletes jumped into the frosty water and swam 2km alongside the iconic Busselton Jetty, an excellent platform for spectators to watch their family and friends giving it their all. Next, the competitors raced 80km through the striking Tuart Forest and finished with an 18km run along the gorgeous Busselton foreshore.
The SunSmart Busselton Festival of Triathlon's marquee event was also the WA State Long Course Championship and the last race on the 2021/22 Triathlon WA season calendar.
Kurt Wesley (North Coast Tri Club) was the first athlete out of the water, followed closely by Guy Crawford (Fremantle Tri Club) and Nathan Saunders. James Martin (Bunbury Tri Club) had the fastest overall cycle time, but it was on the run course where the athletes were really put to the test.
Australian Defence Force athlete, Alex Stuart finished the race in an astonishing time of 03:28:05 to claim the WA State Champion title and Busselton 100 overall winner. Less than two minutes later, Wesley finished in second place, followed closely by Mark Radziejewski in third place.
Australian Capital Territory athlete, Tracy Clinch stole the show when she was crowned Busselton 100 overall female winner in an incredible time of 3:49:31. Appearing in her sixth Busselton Festival of Triathlon event, Felicity Sheedy-Ryan (UWA) used her experience to take out second place, two minutes behind Clinch. 2020 State Long Course Champion, Dimity Lee-Duke (Bunbury) followed closely in third position.
The fastest male Age Group athlete was Brett Johnson from Rockingham Triathlon Club who finished 6th overall in 03:34:53 and the fastest female Age Group athlete was Fiona Whelan who finished in just over four hours.
Sunday brought another fantastic day of racing with the first ever Busselton Foreshore Sprint (750m swim, 16km bike, 4km run) and Enticer (200m swim, 8km bike, 2km run) events. Over 250 children aged 7-15 years participated in the two SunSmart Kids Triathlons (short course: 100m swim, 2km cycle, 500m run and long course: 200m swim, 4km cycle, 1km run), making it a fun day out for the whole family!
Para triathlete David Bryant (Stadium Tri Club) put on an exceptional performance to win the Foreshore Sprint in 52 minutes and 14 seconds. Junior athletes Joshua Neervoort (Fremantle Tri Club) and Joshua Fletcher (North Coast Tri Club) were hot on Bryant's heels, taking out second and third place respectively. The fastest overall female was Rebecca Kierath (Exceed Tri Club) with Stephanie White and Kimberley Hallett rounding out the podium.
Will Cramsie (North Coast Tri Club) was the fastest male athlete and Indie Arbuckle (Team XTR Tri Club) was the fastest female in the Foreshore Sprint distance.
Triathlon WA would like to thank the City of Busselton, SunSmart, Healthway, Tourism WA, Department of Local Government, Sport and Cultural Industries, event partners, supporters and volunteers for their contribution to a successful event. We look forward to another excellent event in 2023.