AquaBike Registration – Busselton 100 – 2km Swim, 80km Bike
EVENT DETAILS
Saturday 30 April 2022
Introducing the Busselton AquaBike! Take on the 2km swim alongside that Iconic Jetty, an 80km bike ride through the beautiful Tuart Forrest and a 350m run to the finish line to say cheese for the camera! The Busselton AquaBike is perfect for those who have an injury, struggle with the run leg, or if running just isn't your thing… Get involved in the fun!
Entry includes:
🔢Personalised Race Bib
🎒Competitor Bag
🏅AquaBike Finisher Medal
🎽Competitor T-Shirt
📸A Finish Line Finish!
Entry Fees
| | | |
| --- | --- | --- |
| | MEMBER COST | NON MEMBER COST |
| Tier 1 – SOLD OUT | $275.00 | $305.00 |
| Tier 2 – SOLD OUT | $310.00 | $340.00 |
| Late Entries | $335.00 | $365.00 |
Pricing is inventory-based according to slot quantities and will automatically increase when capacity has been filled.
There will be an automatic increase to Tier 2 pricing at 11:59pm (AWST) on Sunday 27 Feb if this Tier is not reached prior.
Entries close Sunday 3, midnight, 2022. Late entries available subject to availability. Late entry surcharge fee will be charged.
All participants must be 18 years old as of 31/12/2021 to participate in the AquaBike as individuals.
Credit Card surcharge fee is not included in above entry cost and is payable by each participant at checkout.
The race is run under Triathlon Australia Race Competition Rules- July 2021. Any questions about rules please contact technical@wa.triathlon.org.au for clarification.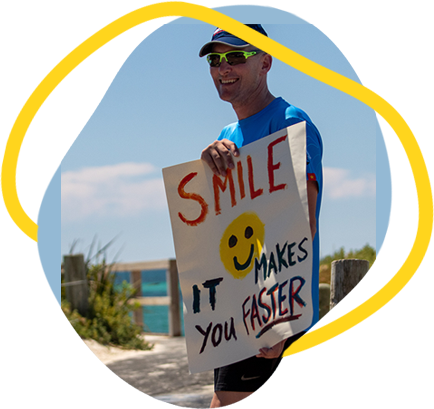 Key Dates:
| | |
| --- | --- |
| 30 November 2021 | Register by 11:59pm to secure Free Deferral |
| 28 Feb 2022 | Register by 11:59pm to be included on the Athlete Name T-shirt (Sold in merchandise) |
| 18 March 2022 | Register by 11:59pm to receive personalised race kit with name on bib |
| 3 April 2022 | Entries close at 11:59pm. |
All times above are AWST.
Withdrawals and Deferrals
Deferral Program
Register on or before 11.59pm (AWST) 30 November 2021 and you are eligible to defer your entry to the 2023 Busselton 100 free of charge. All deferral requests MUST be received on or before 11:59pm (AWST) 18 March 2022. Any requests for deferral after this date will not be honoured. The deferral may only be used once. Athletes who elect to defer their entries forfeit any partial refund for the 2023 event. Deferrals are only available for individual entries. All deferrals are final.
Entries into the event taken after the 30 November 2021 are not eligible for the Deferral program.
Full Terms and Conditions for the Deferral program can be found here.
Withdrawal Policy
2022 BUSSELTON 100 Triathlon & AquaBike
At the onset of organising an event, costs are incurred. Your entry fee is an investment into the staging of the SunSmart Busselton Festival of Triathlon. Organising this event has required a considerable amount of planning, numerous financial risks and expenses and is run as a business for the advanced development of the sport of Triathlon in Western Australia.
Please note the Conditions of Entry and Waiver – entry to 2022 SunSmart Busselton 100 & AquaBike constitutes a contract between Triathlon WA and yourself as the participant. If you wish to withdraw from the event for whatever valid reason, this is beyond our control and that is your choice, whether made voluntarily or involuntarily.
Please note that race entries are NOT transferable to another person.
Athletes that register prior to 11:59pm AWST on 30 November 2021 are eligible for the Deferral Program OR withdrawal policy outlined below. These athletes, if required, can only choose ONE program to access and once the request has been submitted to Triathlon WA the decision is final.
Athletes who register after 12:00am AWST 1 December 2021 are ONLY eligible for the Withdrawal program.
We are unable to provide a full refund at any time following registration, however the following sliding scale of refund will apply:
Early withdrawal requests received in writing on or before MIDNIGHT WST on 31st December 2021, are eligible for a partial refund of 50% of the entry fee
Withdrawal requests received in writing on or before MIDNIGHT WST on 31 March 2022, are eligible for a partial refund of 25% of the entry fee.
After 31 March 2022, WITHOUT exception NO REFUNDS will be given.
Reimbursements for withdrawals will be processed on a fortnightly basis.
This refund will be given to you in the form of a credit to the credit card used to make the original entry.
Processing and or booking fees associated with the entry system and purchases of optional items/merchandise are non-refundable.
Please supply Triathlon Western Australia with a formal letter/email as confirmation of your withdrawal. Please send to events@wa.triathlon.org.au
If you do not receive a response to your withdrawal within 5-business days, please assume the withdrawal has not been received. It is the athletes' responsibility to ensure the withdrawal has been received.